"System Shock" is an awesome game which made me spend many nights on my PC. Everything was there : a good storyline, a stressful atmosphere. Today only its graphics have gone obsolete, but an enhanced version for windows is available (see the links section).
...So nothing prevents you from playing it again !
---
Download
Some resources extracted from the original *.RES files :
***SPOILER***

- 3D levels (updated 24/07/2015) :
- Ceilings are excluded, in order to view inside the levels
- *NEW* critters are now drawn (as vertical bitmaps)
- 2D items are drawn as horizontal sprites, usually laying on the ground (this choice is arguable)
Text (english, french, german)
| | | |
| --- | --- | --- |
| | | |
---
Here are a few screenshots with an enhanced resolution (up to 1280x1024 thanks to "SS Portable": see the links section below) :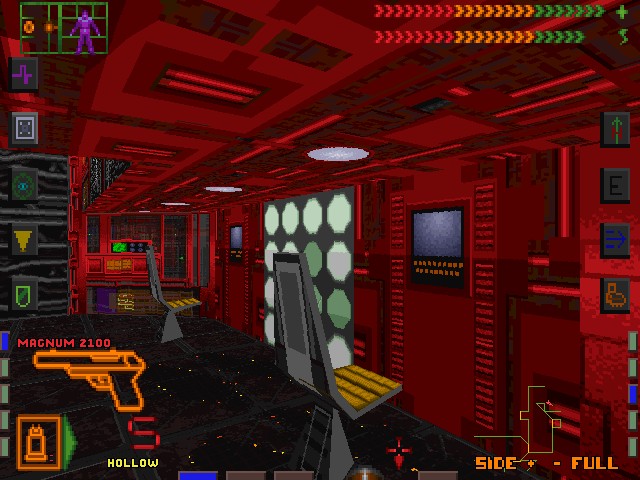 ---
Links
Walkthroughs :
For windows :
System-Shock portable : an improvement of the original game, running under windows with a better resolution : up to 1024x768 instead of 320x200 ! (this is not a portage but the original game enhanced, how did they do that ?)
The System Shock Hack Project (aka TSSHP) : an attempt to recode the game for windows
Technical info :
The unofficial system shock specifications : the description a various file formats and algorithms used by Origin for SS1.
NB : reading these specifications was very useful for writing my data extractor - though I had to experiment ***a lot*** to figure out some oddities.
And last, I have to confess that when I got stuck in trying to understand certain formats, I did have a look at TSSHP's source code on Sourceforge (it was not a piece of cake for me to read C++).
Thank you guys at TSSHP!